Like most people, I absolutely love Christmas. I love the parties, and the fact that everyone makes the effort to see each other (My favourite gathering a this time of year is getting together for a drink and some food with all the local dog owners - sans dogs! We're now in our fourth year of doing this and it's very lovely). I love that it somehow becomes acceptable to eat chocolate at breakfast, even weeks before the day itself. But most of all I love the Christmas decorating. There's nothing better than making your home look warm, welcoming and festive in the weeks leading up to the big day.
Most people really go to town with the tree. And I do love a Christmas tree. But living in a not exactly massive flat, together with usually spending at least a week over Christmas visiting family, means a big extravagant tree is a waste and the little trees are a bit pathetic, aren't they? So I go to town on my mantle instead.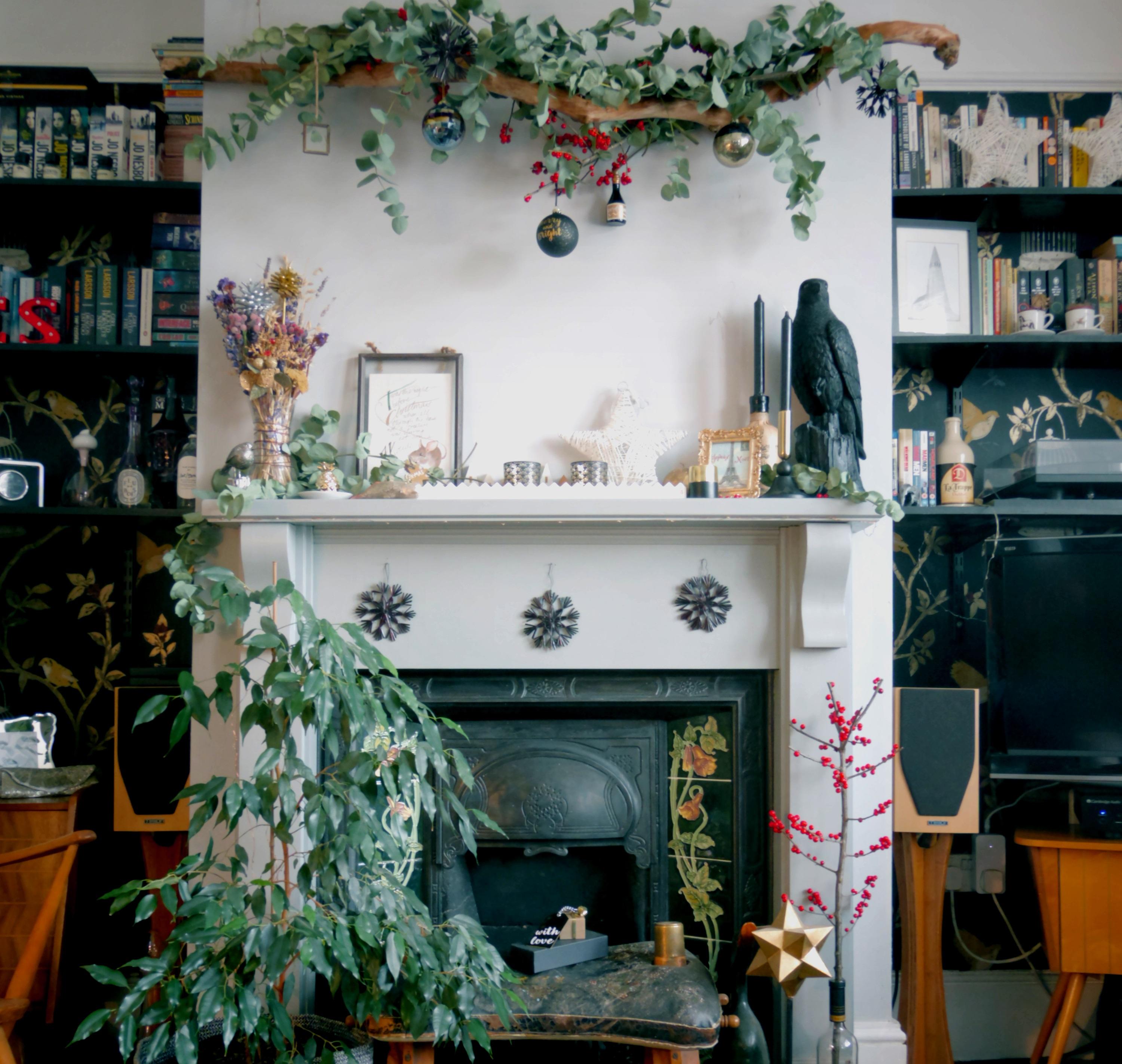 Since my living room has a black and gold colour scheme, I tend to stick with these colours for Christmas. I think it's more interesting than red, green and gold, it's a bit more grown up and glamorous but still very festive. We have a few excellent black and gold decorations in the store, my two favourites being the Merry & Bright bauble (because it's fun), the Iridescent Disco Ball (because who doesn't love a disco ball), and of course Benedict Beluga Whale (because it's a glittery whale!).

I've mixed some of these decorations (which I may have accidentally stolen), in with some of things I have up all year round, including the black eagle which I got from Graham & Green a year or so ago, and the dried flowers (which are from my wedding), plus the Deco Tealight Holders from the store, which I really love, and could be used solely as Christmas decorations.
I also mix in some foliage from my local florist (shout out to Forest London and The Fresh Flower Company) . If you haven't used eucalyptus in your Christmas decorating yet, you're really missing out. Not only does it smell divine, it really brings the whole look together. This year I found a very large and very gorgeous stick that was being thrown away by a neighbouring business who had used it as a prop. it looks absolutely gorgeous strewn with the eucalyptus and also some red berries, hung from the chimney breast, and then adorned with a few hanging decs.