Three and a half months appear to have passed since I last wrote a post. How on earth did that happen?!
I'm telling myself it's a good thing (it's not really). I'm telling myself that I haven't written a post for two very good reasons. The first is because I've been so busy sending out orders, buying more stock, photographing stock, writing copy for stock, making tweaks to the website, and planning stuff for the all important Christmas months (which pretty much makes or breaks a retail business). And this is all good because it means my little biz is growing (and it is!). The second reason I haven't written a blog post is because I've been spending as much time as physically possible outside whenever I've had a chance. Because I don't know if you've noticed, but we've actually had a summer this year. And this is obviously good, for obvious reasons.
There is actually a third reason I have been too busy and too distracted to sit down and spend some time writing (and I really do love to write - I did an English Language degree mainly because I love writing). Over the summer Mr Albert & Moo and I sold our lovely little Victorian flat. Which then meant we needed to spend hours (and hours and hours) looking at houses in the hope we would find something that made our hearts sing like our flat does. That didn't cost a fortune. And that was hard.
But find something we did, and all going well we should be moving in the Autumn. I'm very much looking forward to having more space. I'm looking forward to having an entire room to call my office/studio (as opposed to a tiny corner of our tiny spare bedroom as I do currently). I'm looking forward to having a little plant room (actually a glass covered balcony, but still - it will be used for propagating plants), And of course I'm looking forward to having a whole house (that's nine rooms if you include the hallway and aforementioned plant room/balcony) to decorate!
What I am not looking forward to, is saying goodbye to our flat. We really adore it, and have spent six and half very happy years there, slowly renovating it and turning it into our home. So I thought now would be a good time to do a little house tour. Because living in and doing up this flat was really what ignited my passion for interior design, which led to me doing the interior design diploma and ultimately to launching Albert & Moo.
So this doesn't turn into the longest blog post in the world, I'll do a post per room. First up, for two reasons, our living room. First. because it was the first room we started decorating (although in many ways, the last to be finished, since it evolved very organically over a few years). And because it's my favourite room to be in, probably because it's filled with so many things I love.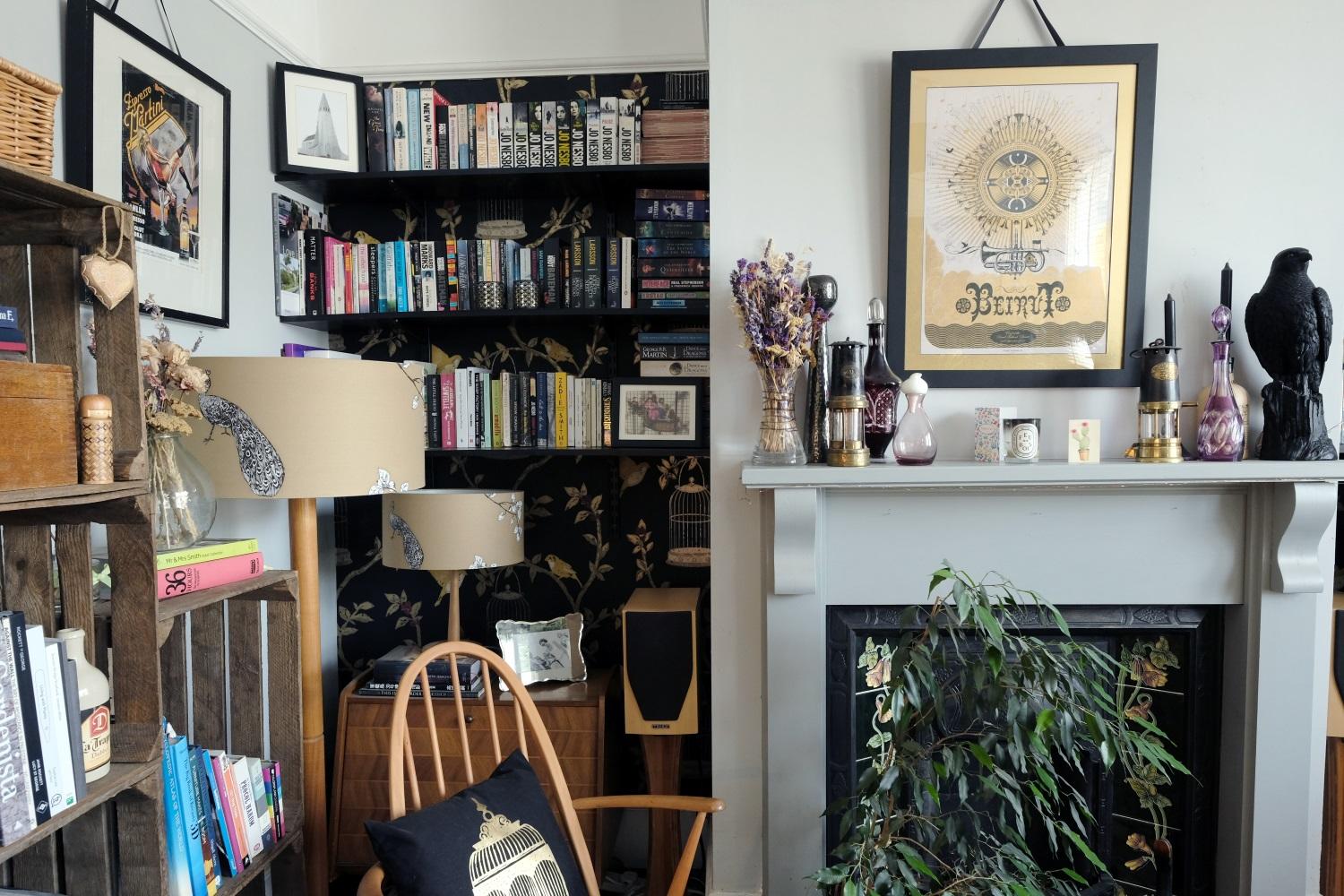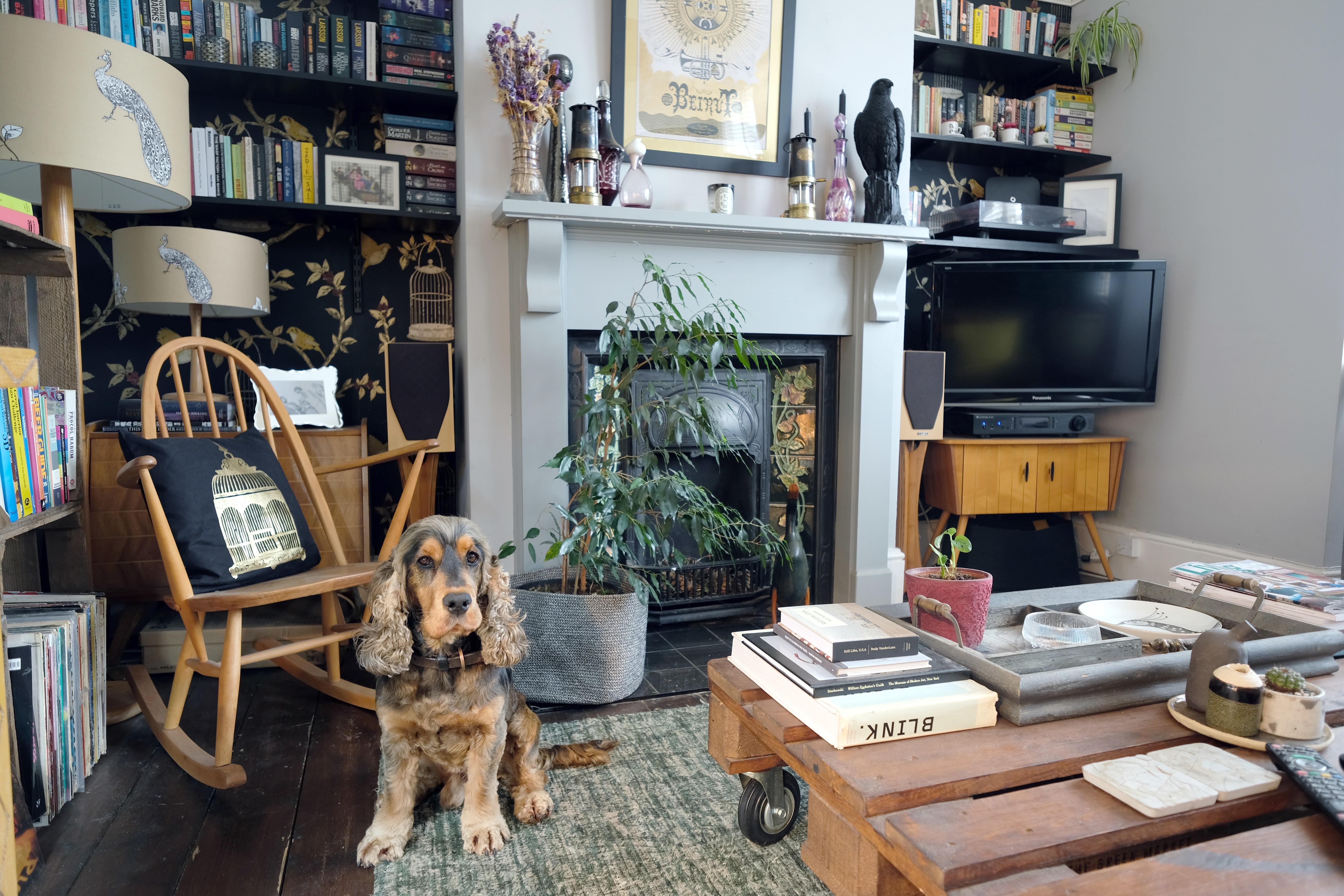 We were renting before we bought this flat, so we had the luxury of staying in our old flat for two weeks while we painted this room and the bedroom next door, The wall colour is Light Rain from the B&Q Colours range. It's excellent value and I get so many compliments on the colour.
Initially we just had the grey walls. The wallpaper went up about six months later. This is Birdcage Walk by Nina Campbell for Osborne & Little. I actually bought a roll of this a year or so before we'd even bought the flat, because I loved it so much. I intended to do some kind of furniture up-cycling project with it. But I didn't, and when we moved here knew it would be perfect in this room. The shelves were given to us for free a bit later still, and work really well against the dark backdrop of the wallpaper.
The fireplace and radiator weren't painted for another year or so (the mantelpiece was bare pine before). This time using Farrow & Ball's Lamp Room Grey. My favourite thing about this colour is in daylight it matches the walls perfectly, but at night with the lamps on it appears much darker and looks really cosy.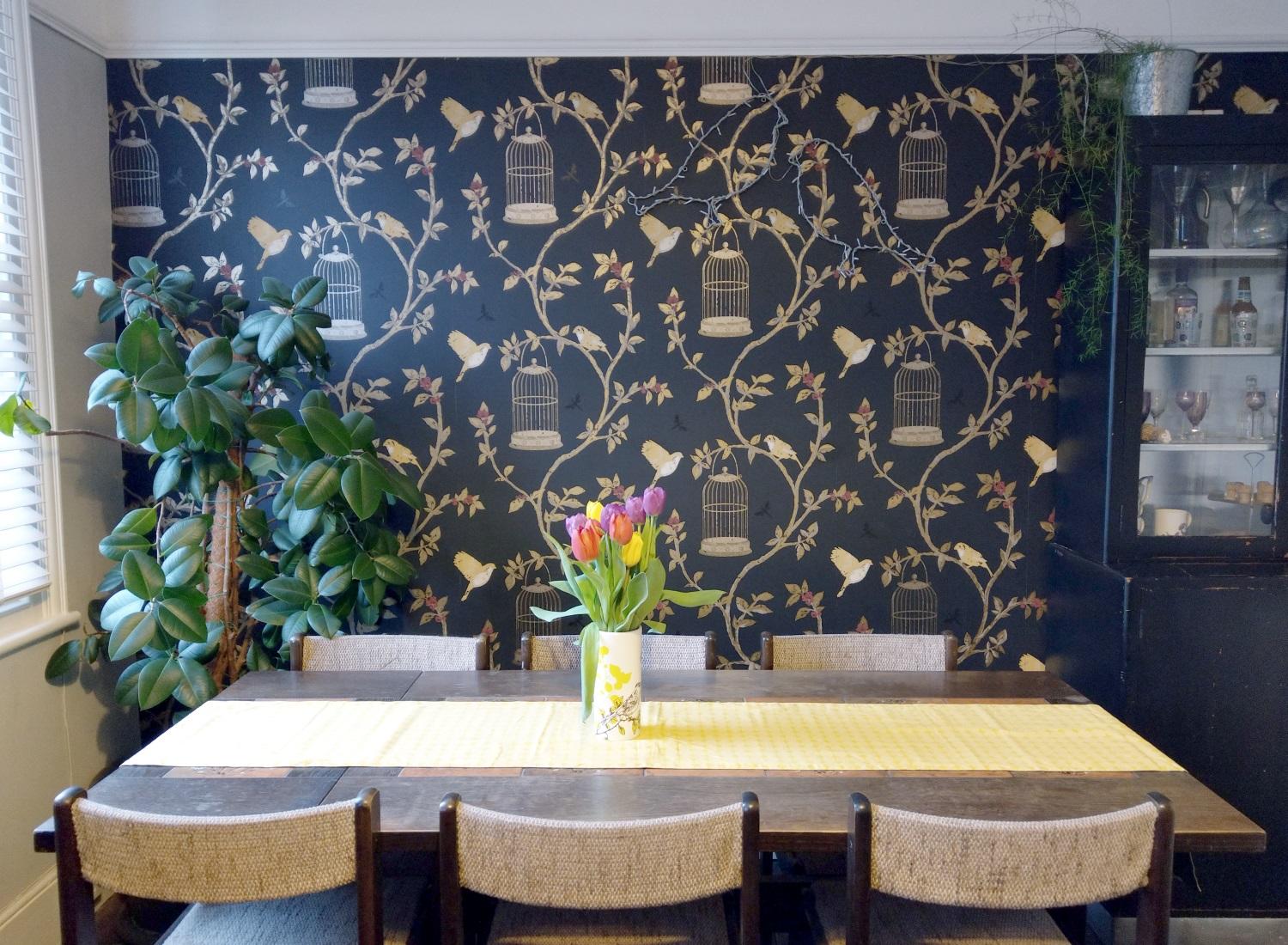 In terms of furniture, that was done gradually too. We had the leather sofa, pallet coffee table and vintage footstool already, and a few odds and ends that were used as temporary pieces (including an awful 90s side table that I'd taken from my parents to use a TV cabinet when they were throwing it out).
The mid-century bar I bought on eBay a week or so before we exchanged contracts - risky, but I fell in love with it and didn't want to lose it. The table and chairs were also eBay and were purchased very quickly, mainly because we needed to seat seven people for dinner not long after we moved in! The mid century cabinet we use as a TV cabinet took much longer to find, since I wanted something to compliment the bar. The Ercrol rocking chair was much later still, also eBay and collected from a house a couple of streets away!
We didn't have a rug for years, eventually finding this one which immediately changed the feel of the room. The black cabinet and apple crates also arrived much later, as much needed extra bits of storage. And finally the grey chair was moved from another room only about a year and a half ago, after using it in a photo shoot and deciding I liked it enough for it to stay in this room.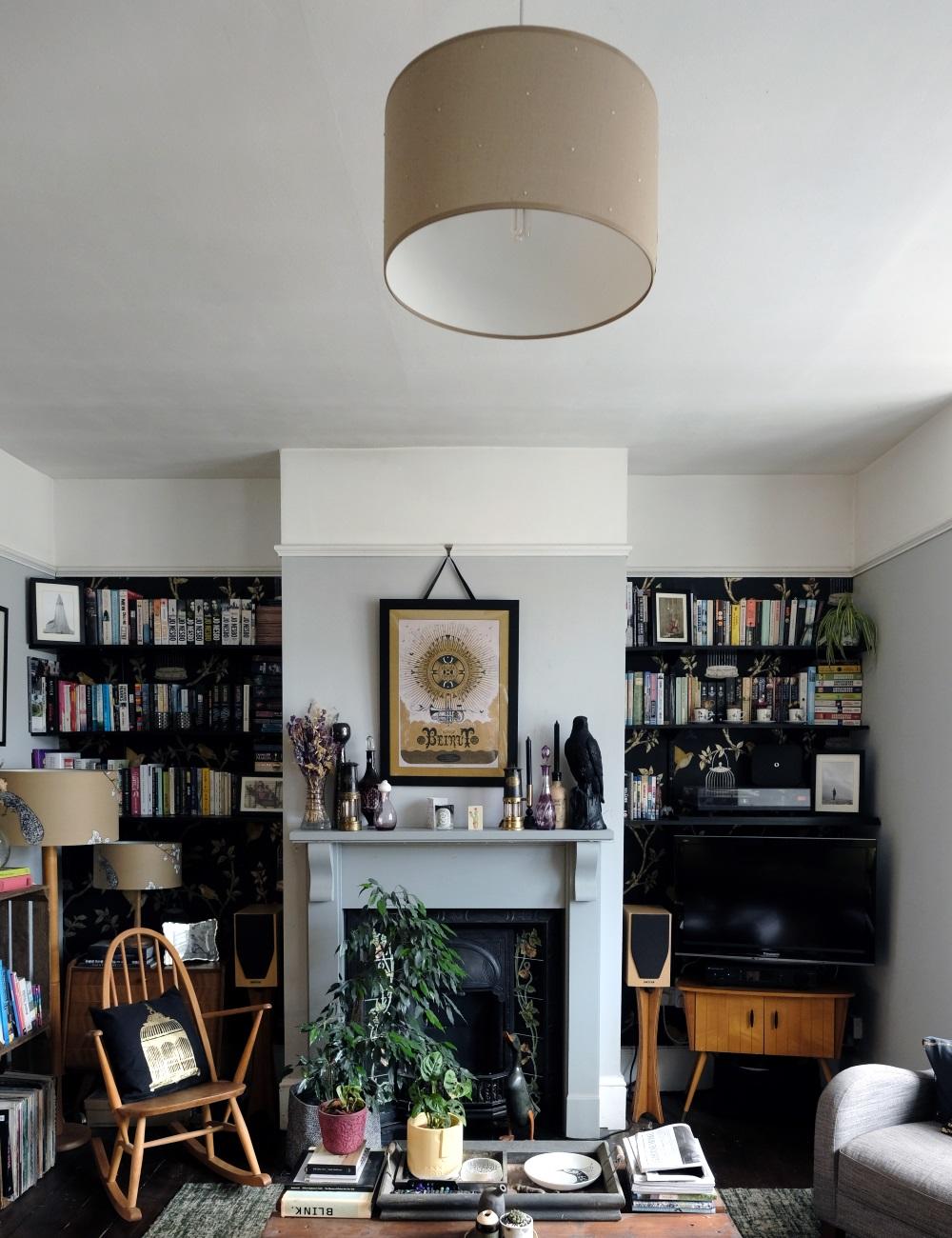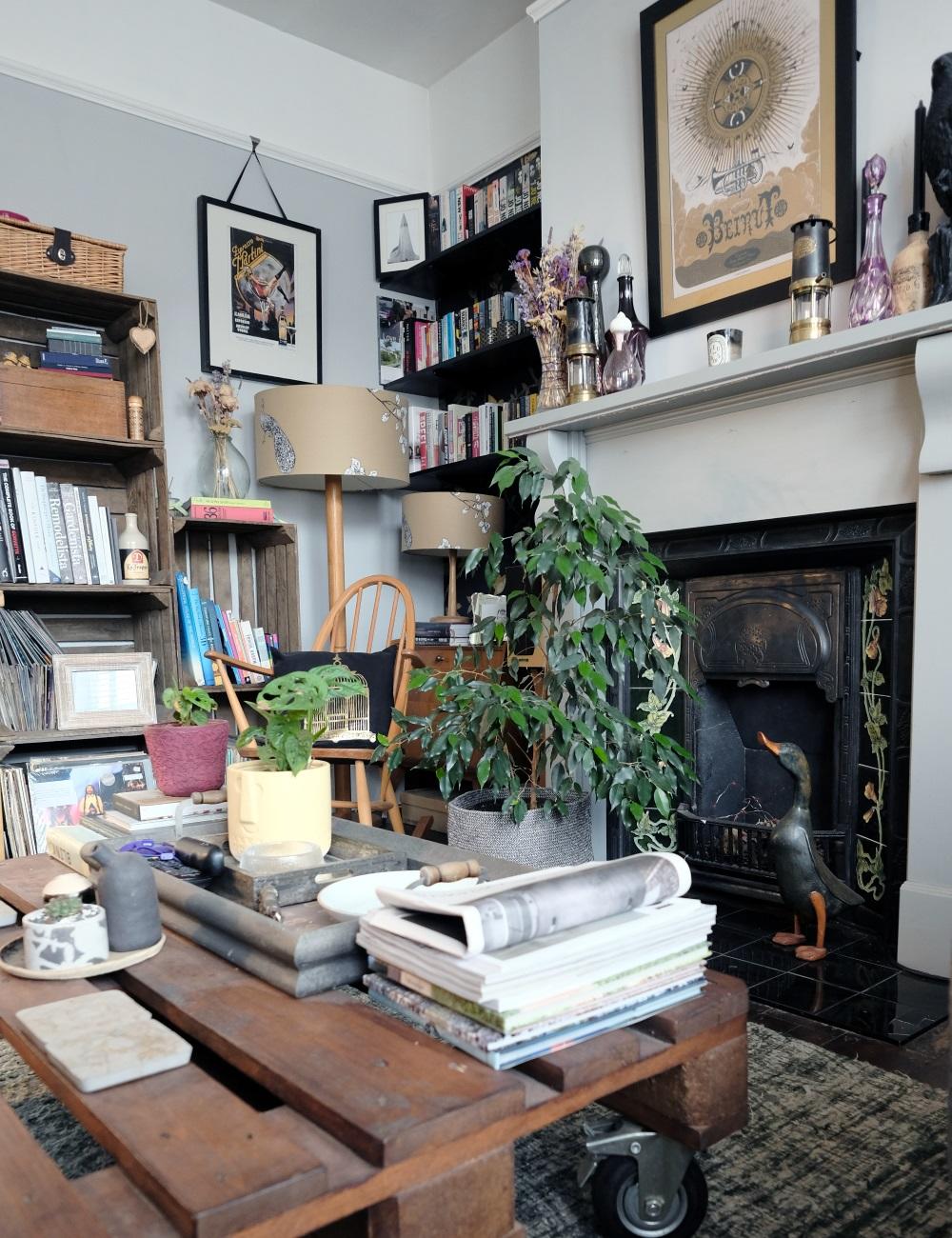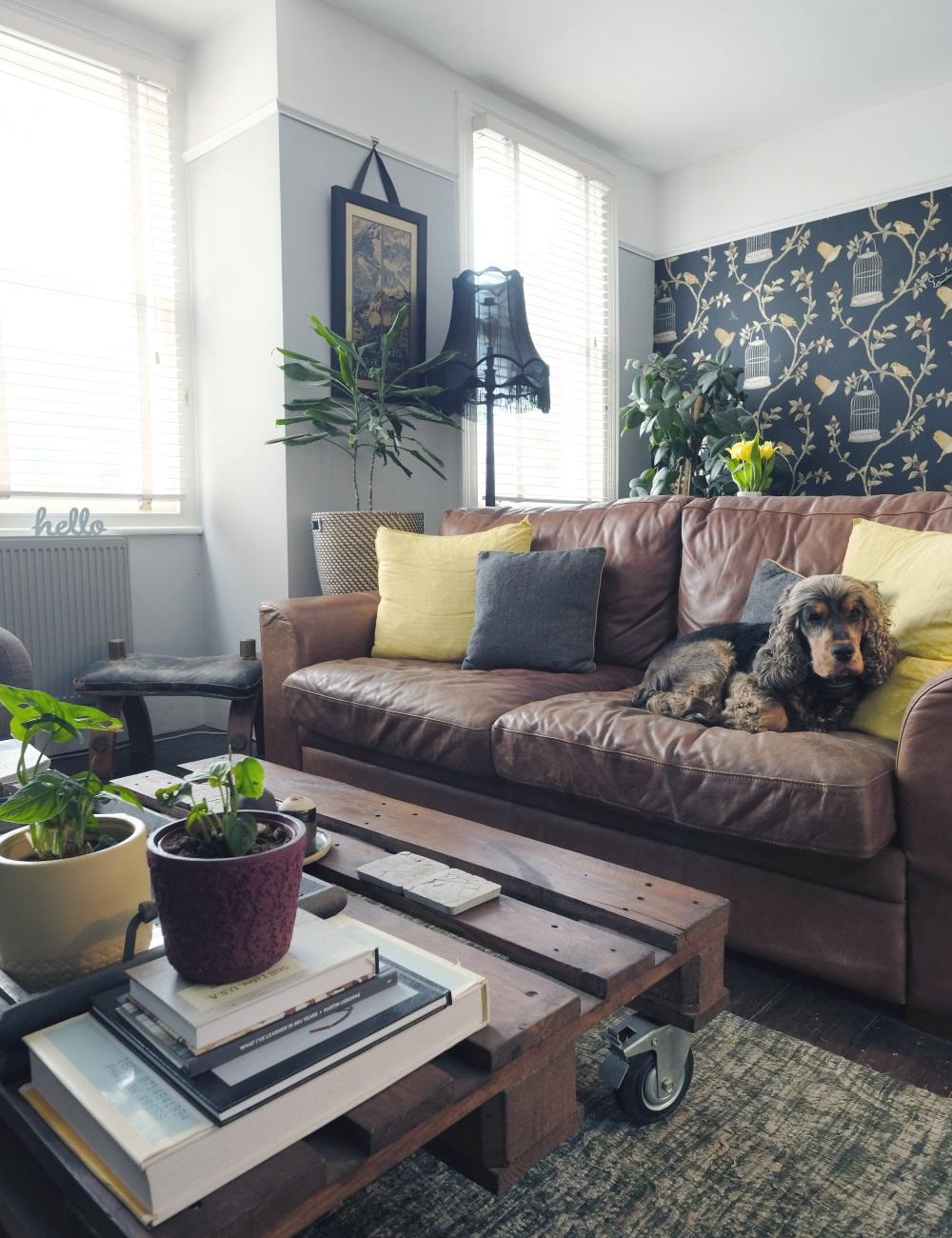 The art, plants and home decor in this room also have been acquired gradually over the years - there's art we bought at our favourite festival, End of the Road (by artist Switch Open), there's my dried flower bouquet and the cake topper from our wedding (of Albi & Mooli aka Albert & Moo the bearded dragons), there are interior design books (mine) and photography books (his), there are random vintage finds we've collected over the years, and of course there are plenty of plants! It's these things I most treasure, and whilst not all of our furniture will be moving with us, it's the art, plants and home decor items that will make our new house feel like home.