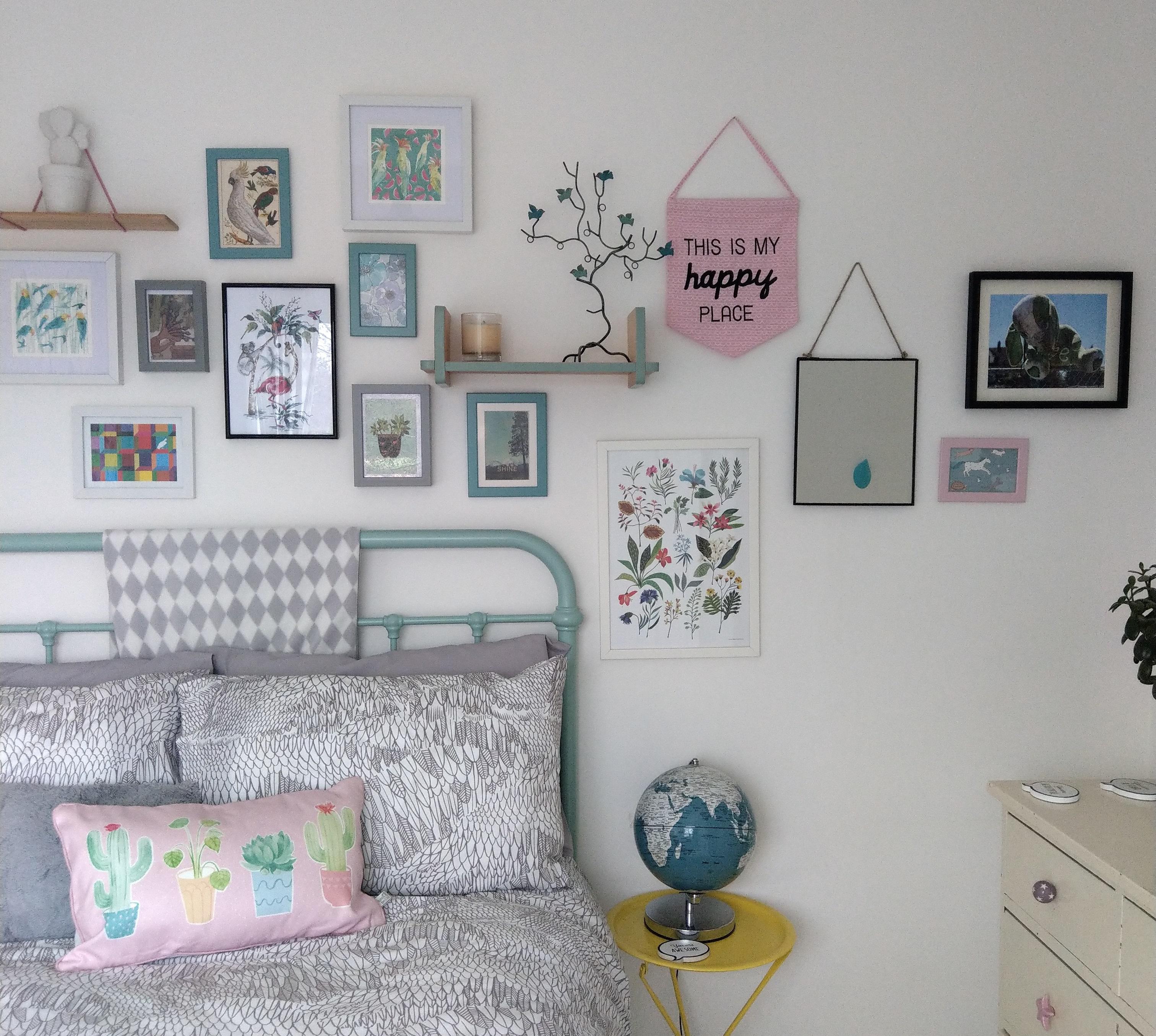 If you're even remotely interested in interiors and home decor then you'll be aware of the gallery wall phenomenon that's emerged over the past few years. Whereas before we used to hang one, or maybe two, (perhaps even three if they were small) pieces of artwork, now we hang them in their tens/twenties/fifties, in order to fill an entire wall with art.
There have been rumours that the gallery wall trend in nearing the end of its life span. One look through the #gallerywall hashtag on Instagram or Pinterest however, would seem to suggest otherwise.
I personally love a gallery wall, and can't see myself switching them up for one statement piece of art any time soon. Don't get me wrong - I love this look too. I really love art, and think a statement piece deserves to be treated as such, not hidden amongst a load of other stuff. But statement art often comes with a statement price tag. And that's the beauty of a gallery wall. You may need several pieces to create one, but you certainly don't need to spend a huge amount of money.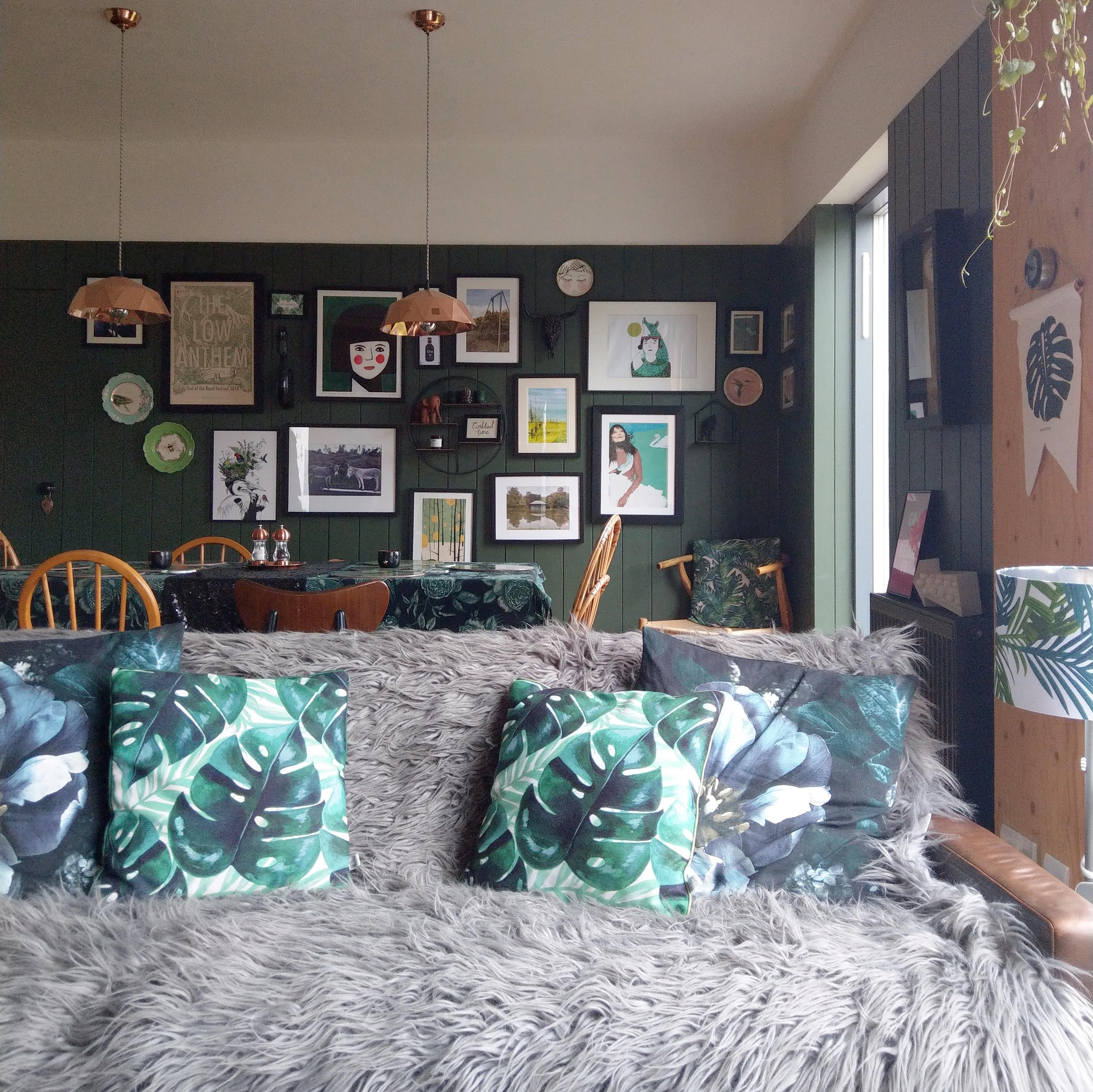 Take the gallery wall I created in the dining room at One Mill House for instance. There's nothing here that cost more than about £25. There are a few pieces of my photographer husband's work (which you can buy here), although you certainly don't need to be a professional to display your own work - if you love it, include it! There is also a framed tea towel - a brilliant cheap way of adding interesting art with lots of illustrators printing their work on tea towels these days. There are also a couple of postcards, most of which were free promotional items, and greetings cards, some of which you can buy here.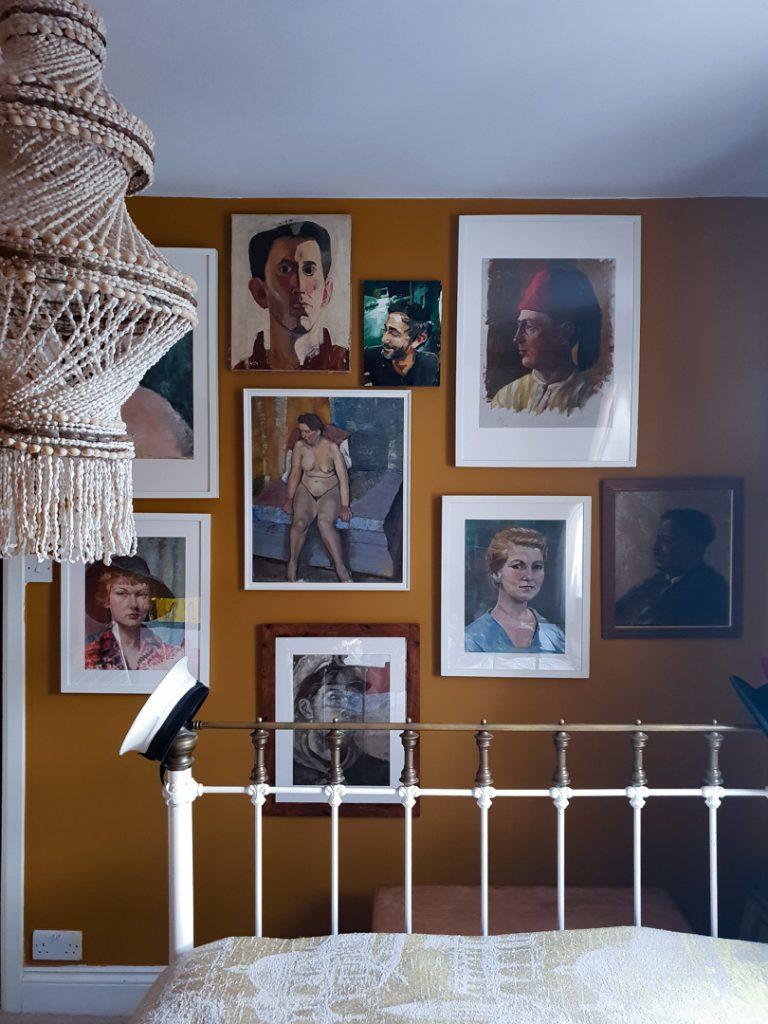 One of my favourite Instagrammers, fellow South East Londoner and blogger over at All Up In My Space, Robyn (@almost_everything_off_ebay) has created this incredible, portrait themed gallery wall in her spare bedroom. The art is almost entirely, yep, you've guessed it from eBay. This gallery wall is a great example of creating a really impressive gallery wall on the cheap. It's also a great example of how having a theme can create cohesion to your display of art work.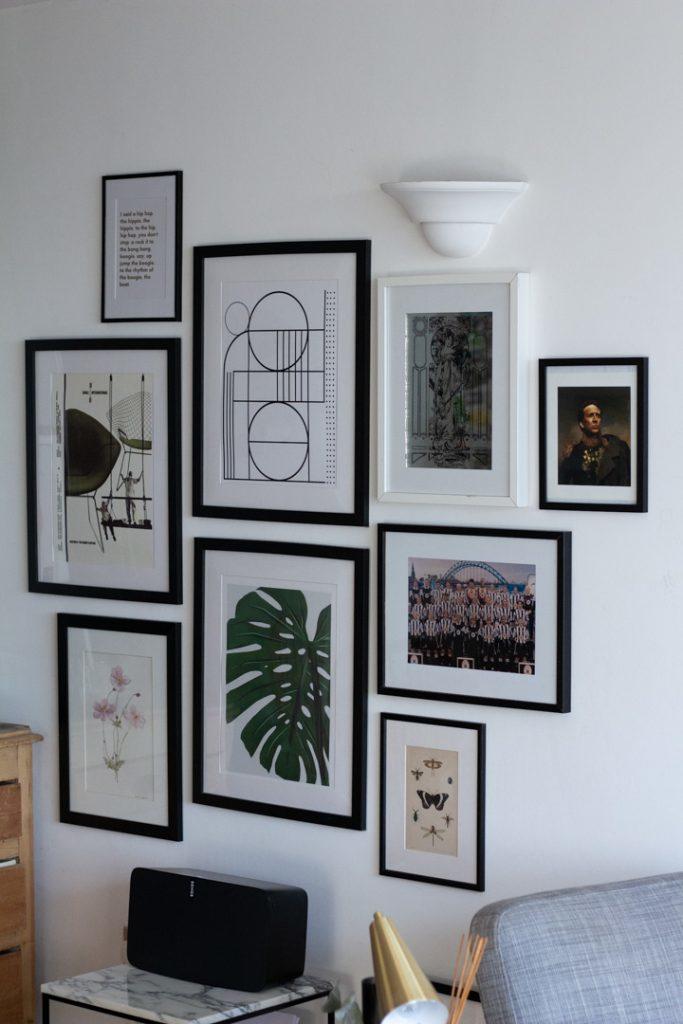 Robyn's partner/blogger in crime Emma (@thecrapflat) has gone with colour to theme her gallery wall, which has a very pleasing black, white and green colour palette. There is absolutely nothing apart from the colours that tie these pictures together, and we applaud the inclusion of the photo of the Newcastle football squad. Like we said, if it makes you happy, include it.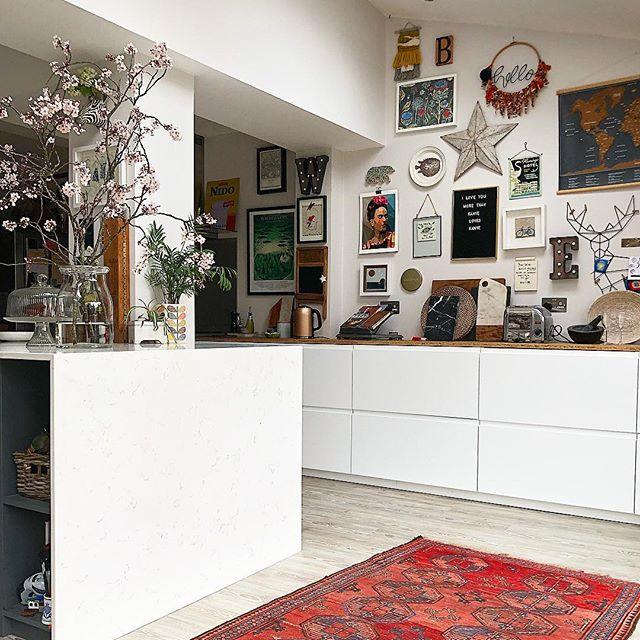 You don't need to have a theme though. Some of our favourite gallery walls are completely random. Take this one, in the kitchen of Instagrammer Hayley, aka @nido_uk. It's a riot of shapes, colours and textures. There is so much interest there I could stare at it all day. I also really love the fact that it fills the space exactly.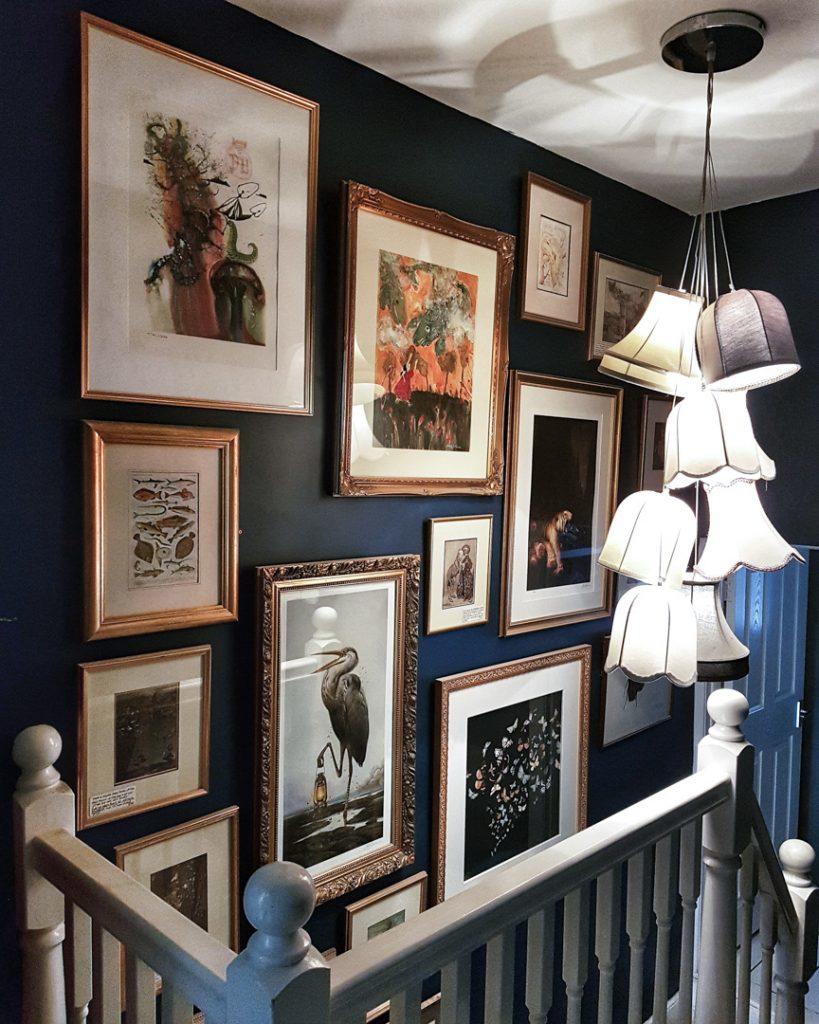 Talking of filling space - where is best to have a gallery wall you ask? Well, quite honestly, we think have one wherever you damn well like. That said, they do work particularly well in a hallway. There are two reasons for this. One is the space. Unless you're in a flat or bungalow, you probably have stairs, which which means to have height. Perfect for filling with lots or art. The second is you don't actually spend too much time in a hallway, so if you prefer a slightly less is more approach to decor, you won't find it too much, as you won't spend much time looking at it. Back to Robyn (she bloody loves a gallery wall) to demonstrate how great a gallery wall running up the stairs can look.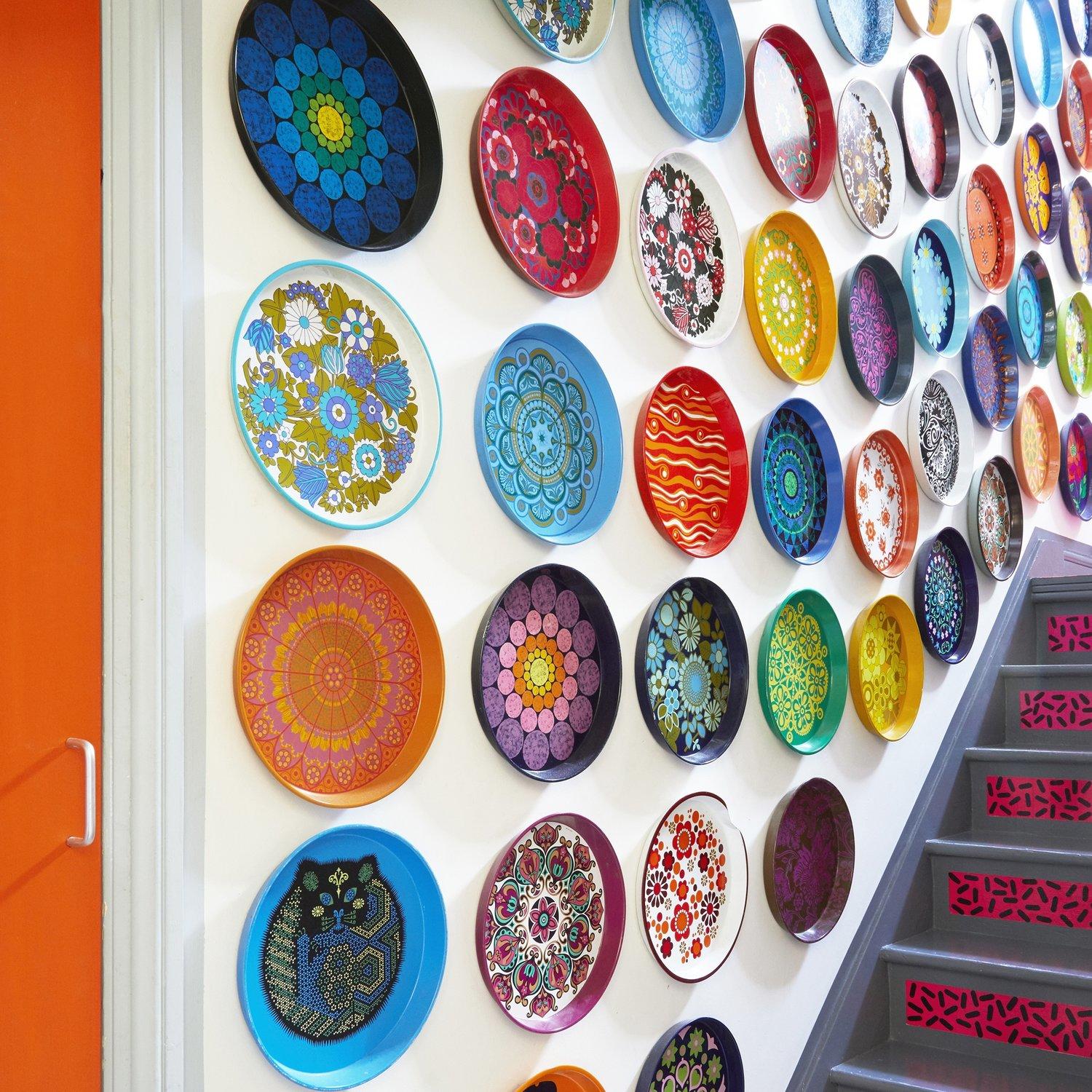 Here is another hallway gallery wall, from Ms Pink at design studio Quirk & Rescue. Although this doesn't actually include art. This gallery wall is in fact made entirely of trays! This is a great example how a gallery wall can be made up of pretty much anything. Again showing, if you love it, add it! Going back to one of my gallery walls, here's the kitchen in my London flat. Originally I just had the big green bird shelf there, but gradually I added a few prints, and then the plates, and now whenever I see something I love, that I think will work here, I buy it and add it. You can buy the London print here, and most of the plant pots here.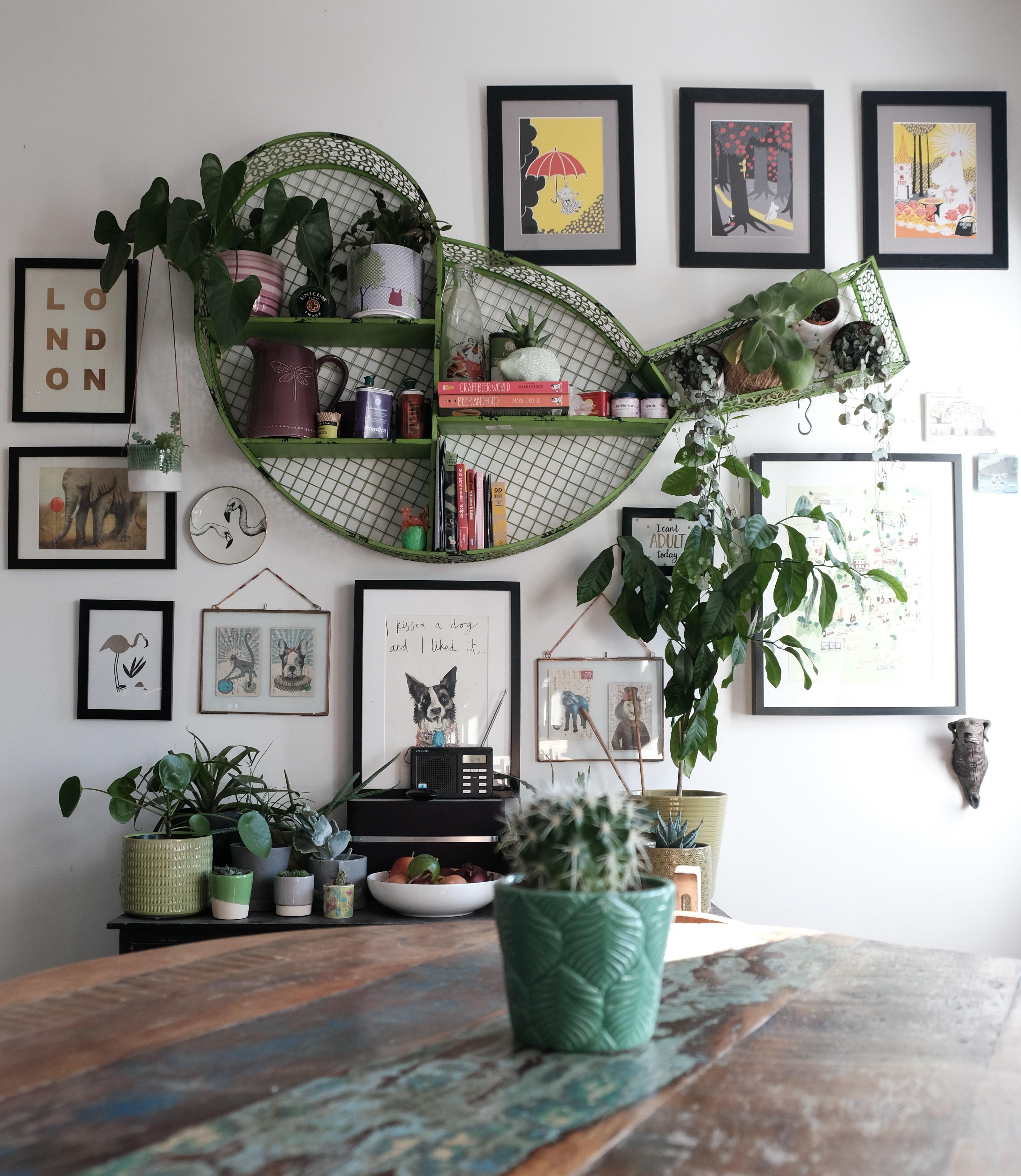 This does lead on to the question of whether to plan a gallery wall in meticulous detail, or just create in organically, adding pieces as and when you get them, but that's a whole other topic, and one I'll cover another day.
You can see more gorgeous gallery walls over on our Pinterest board.