You may not believe this but we have finally moved into our new house. That's right. Three months (to the day) after moving out of our old flat, Six months after completing, and almost a year since we viewed it, we now live in our own house. It's still very much a partial building site, with only three rooms habitable (living room, bedroom and bathroom) but we're in, and it's amazing.
We've been there just over a week, and we spent much of this last weekend unpacking boxes, moving stuff around and visiting the storage units most of our stuff has been in to remind ourselves of our belongings. We put it all into two piles; stuff we need now, or will need shortly (hello new kitchen), and stuff that will get in the way so needs to stay in storage until the builders have left and we can use the whole house, not just part of it. Very sadly, my huge box of Christmas decorations was put into the second pile. Because whilst we have a living room which looks incredible (blog post on that coming soon!), it is currently filled with more furniture than a room of that size needs. And quite simply, there isn't room for even a small Christmas tree.
BUT, that doesn't mean I won't be decorating for Christmas. Oh no. For me, making a house festive is one of the best bits, and I'm not going to let a small thing like lack of space stop me. So, for anyone in the same boat, I've done a bit of research, and here are six Christmas tree alternatives, when you don't have space for a proper one. All from independent shops of course.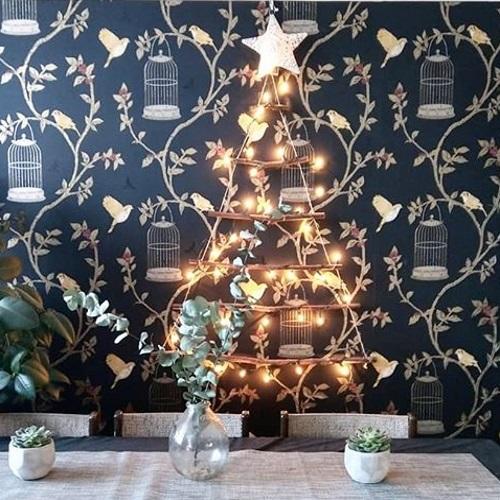 First up is actually one I already own (and made it into the stuff we need now pile). It's a lovely rustic hanging tree made from branches and string. It's up to you whether you leave it minimal or treat it as a real tree. Last year I stung it with fairy lights and then left it at that, but this year I will definitely be using some of the black and gold baubles from the store to make it look more like a real tree. It's from a company called The Log Basket, who specialise in doing lots of gorgeous wooden accessories for the home, as well as a small range of wooden Christmas decorations (I particularly like the wooden deer, and wondering where I can put one of those!)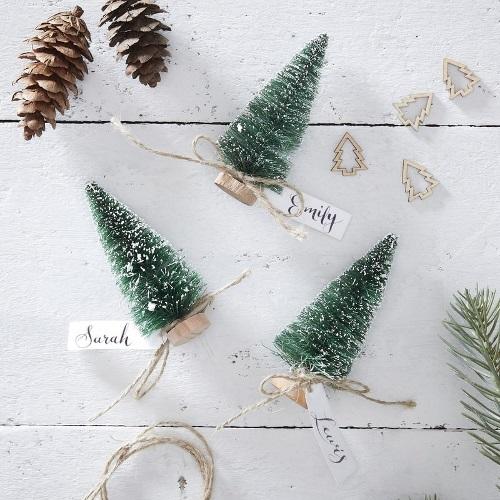 Next up is not really a Christmas tree alternative, but they were so adorable I had to include them, and they're from one of my favourite indie stores Lisa Valentine Home. They're cute little Christmas tree shaped name card place holders and would look beautiful on the Christmas table. I think they'd also look pretty great just as small Christmas decorations on the mantle piece.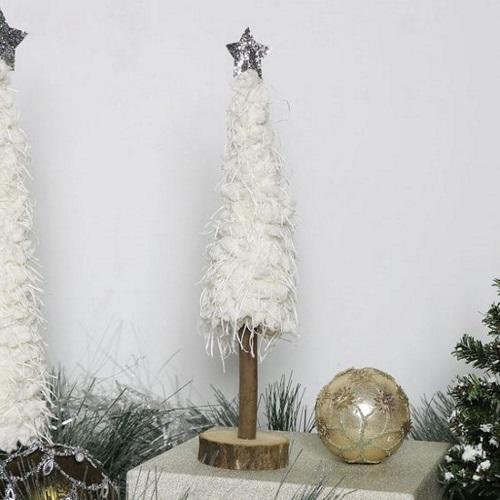 Next up is a more traditional Christmas tree shaped decoration, although still very different to a proper tree. It's this lovely woolly snow covered tree from Melody Maison. It's just over 30cm tall, making it great for a side table or dining table, and whilst you can't really hang baubles from it, you could wrap some small tinsel around it or clip small decorations on to it. Not that it needs anything adding of course.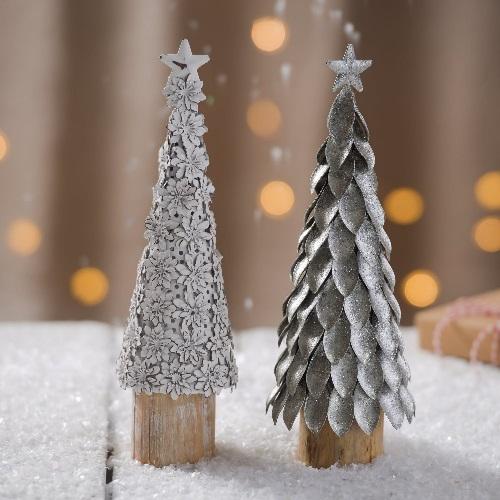 In a similar vein are these very lovely and more sparkly Christmas tree shaped ornaments, which come in a pair, so you can have two Christmas tree alternatives! They're made from metal and wood, they're just under 30cm and would look great at either end of a mantle, or together on a shelf. They're from The Letter Room.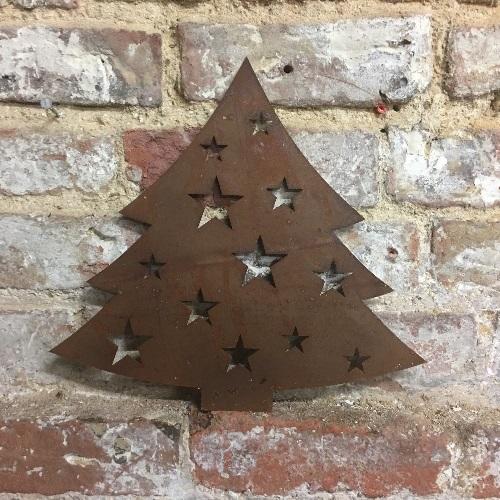 Last up is another of my favourite indie stores, the Rustic Warehouse. They're my go to for slightly unusual vintage furniture, but they also have a range of industrial and rustic home accessories they make, including these rusty metal Christmas tree shaped wall signs. I personally love a bit of industrial styling, and in the right interior style this tree could look amazing. You could easily string it up with fairy lights and hang some equally rustic baubles from it too.
I'll be updating Instagram with my Christmas styling shortly, so make sure you're following if you want to see what I get up to!