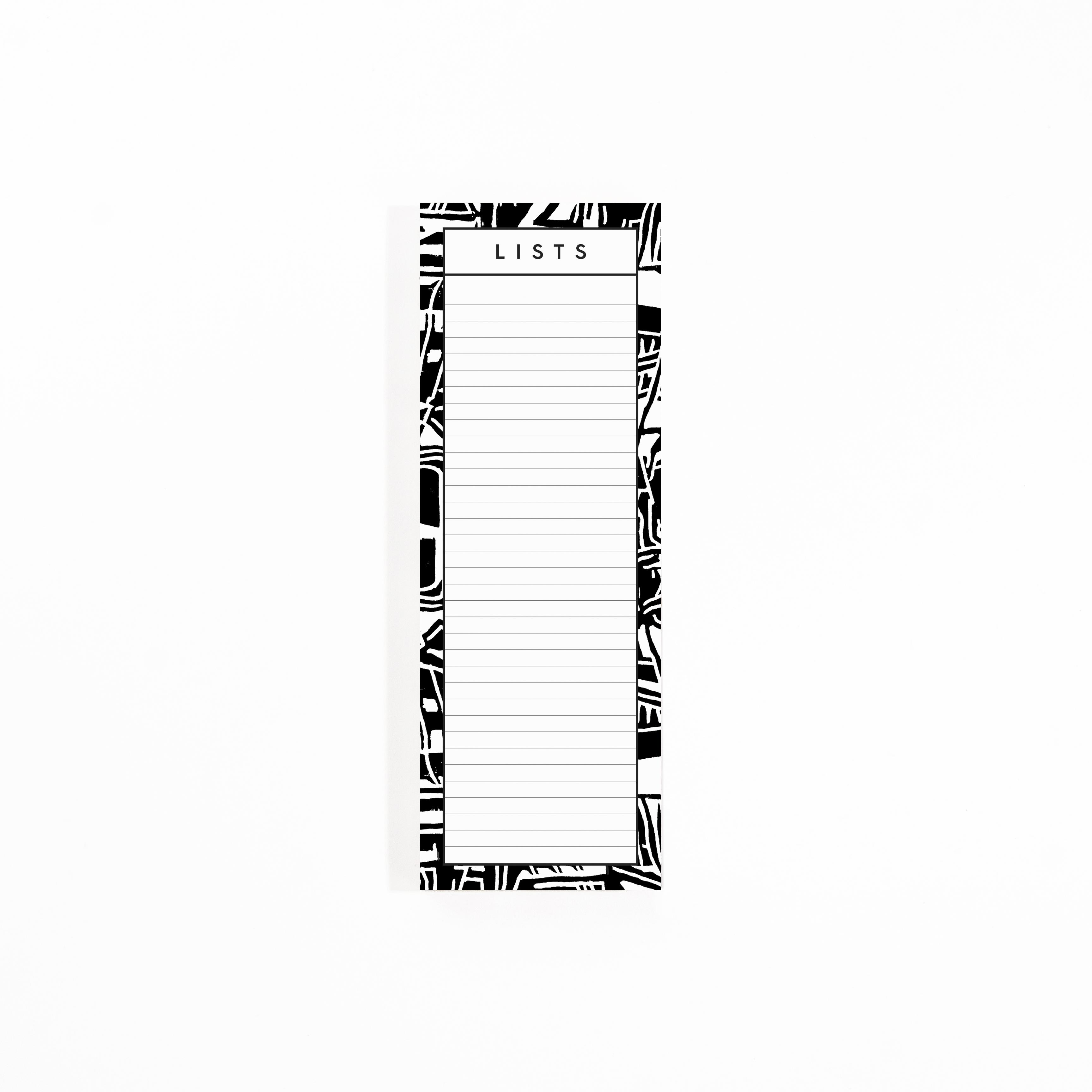 Hover over the image to zoom
List Pad
Description

Delivery

Returns

Reviews
We've mentioned elsewhere that Albert & Moo is run entirely on tea. Actually, that's not true. It's run on tea, and our trusty planning aids. This one is used probably more than most, being where we keep track of our lists. We keep one in the kitchen, for jotting down when we're low on tea/ginger biscuits/babybel. We also keep one in our studio, so we can keep track of products we need to buy more of/stuff we need to reshoot and little admin jobs we need to do.
In summary, we love this list pad.
It's from Yorkshire based design studio Wald, who design beautiful paper products. it's 21 x 8cm A5 sized with 100 plain paper pages per pad, hand glued with yellow pigment. The paper pages are 80gsm recycled paper with a grey board back. All Studio Wald products are printed and finished in the UK.
This item is eligible for £1.50 small item delivery.
Christmas Delivery Update: Please order by:
UK Delivery: Monday 14th December | International Delivery: Wednesday 2nd December
We will be continuing to dispatch after these dates, and while they may well arrive in time for Christmas, we are being cautious due to Covid delays and can't guarantee it.
Last dispatch of 2020 will be Tuesday 22nd December. We will then close until mid-January.
COVID-19 Delivery Update: We're currently dispatching twice weekly with orders usually being dispatched within 3-4 working days, however this may increase as we get busier in the run up to Christmas. We are also now starting to see delivery times increase again. Most orders are arriving within 2-5 (working) days of being dispatched, however we advise allowing up to 10 working days. Express delivery is not currently available, however if you are buying a gift and need it to arrive by a certain date please email us - we can usually assist. International orders are likely to be subject to delays, especially to the USA. You can read our full Covid-19 Update here.
Standard delivery within the UK Mainland is £4. Orders usually arrive in 3-5 working days (but can take longer during busy periods). Delivery to all other UK locations can take an extra 1-2 days. All UK orders above £75.00 qualify for free delivery. For small items (cards, tea towels etc) that can be sent as a large letter, postage is just £1.50.
We also offer free local delivery - please enter code SE15 within the SE15, SE16, SE4 or SE14 post codes.
Most items can be delivered outside of the UK (not plants). Delivery to Europe is £12 and usually arrives within 4-8 working days. For Rest of World, it's £20 and takes up to 12 working days.
We want you to be delighted with your order, but if for any reason you are not then you can return your order to us within 30 days of receipt for a full refund. Please send to:
Albert & Moo
44 Manwood Road
London
SE4 1AD
Unless your items are broken or faulty, you will be liable for the return costs to us. If your product has arrived damaged please send us a photo via email to info@albertandmoo.com and we will advise you further.