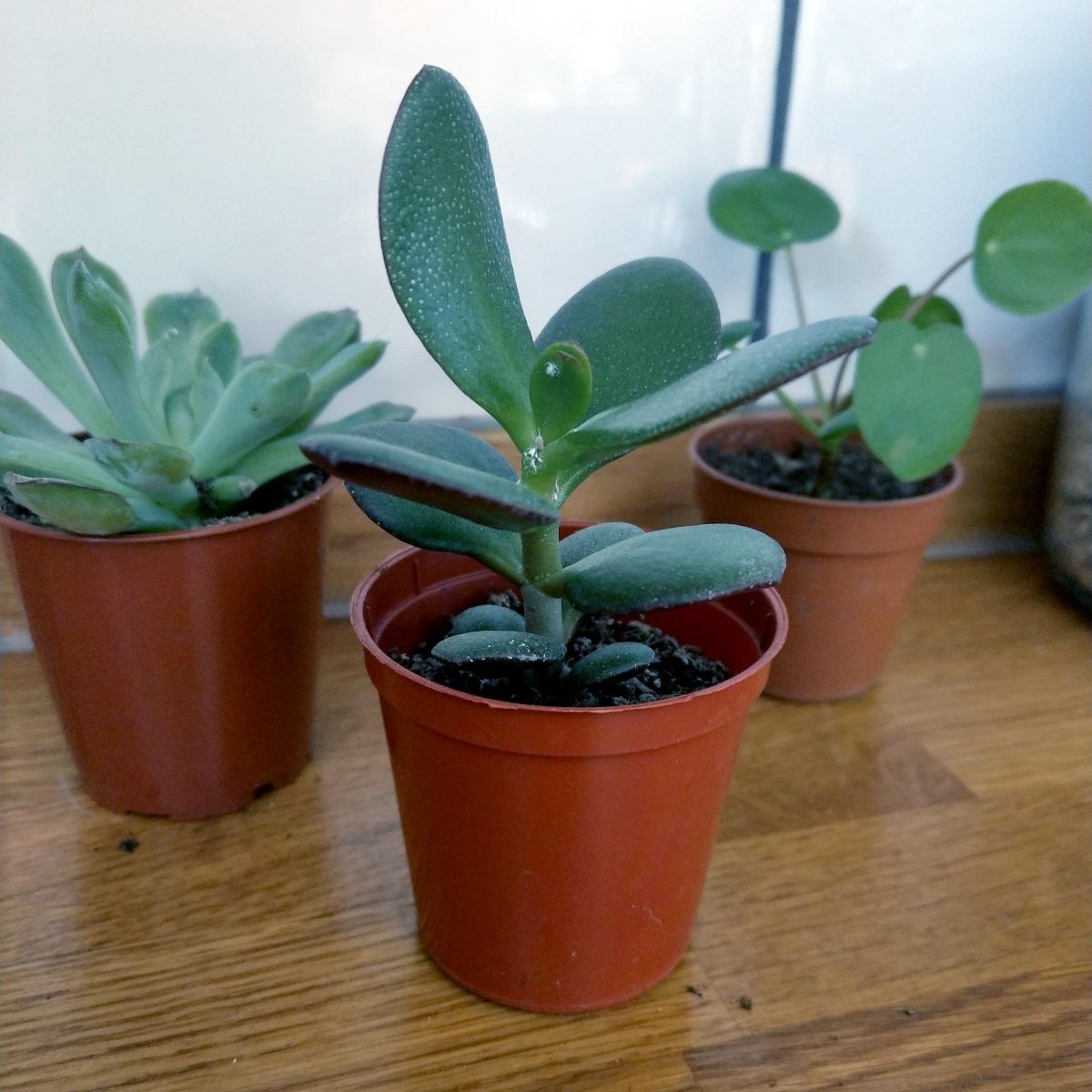 Hover over the image to zoom
Mini Jade Plant
Description

Delivery

Returns

Reviews
Another firm favourite of ours (although let's face it, all the plants are our favourite...), the Jade Plant, or Crassula Ovata to give it its proper name, is a very low maintanence plant. It's also said to be a symbol of good luck. Win win!
Jade Plants enjoy a nice sunny spot - by the window is ideal. They do need regular watering but not too much - you're more likely to over water than under water this one. ??You definitely don't want that because it will cause root rot. Watering little and often is most preferable, but don't worry too much if it is under watered - it will let you know it's thirsty by drying out its leaves slightly and it will soon recover from this after a drink.
Available in a 6cm pot. Please note these are fragile little things and they may lose a leaf or two during transit. This doesn't seem to worry them too much and they soon bounce back! Plus if you keep the dropped leaves, you may find it starts growing a whole new plant. Now that's what we call a good deal!


We're currently on holiday and are not shipping orders again until August 18th.
Deliveriy times are more or less back to normal within the UK with most orders are now arriving in 3-6 days. Express delivery is not currently available, however if you are buying a gift and need it to arrive by a certain date please email us - we can usually assist. International orders are still subject to delays. You can read our full Covid-19 Update here.
Standard delivery within the UK Mainland is £4. Orders usually arrive in 3-6 working days (but can take longer during busy periods). Delivery to all other UK locations can take an extra 1-2 days. All UK orders above £50.00 qualify for free delivery. For small items (cards, tea towels etc) that can be sent as a large letter, postage is just £1.50.
We also offer free local delivery - please enter code SE15 within the SE15, SE16, SE4 or SE14 post codes.
Most items can be delivered outside of the UK (not plants). Delivery to Europe is £10 and usually arrives within 4-8 working days. For Rest of World, it's £15 and takes up to 12 working days.
We want you to be delighted with your order, but if for any reason you are not then you can return your order to us within 30 days of receipt for a full refund. Please send to:
Albert & Moo
Studio 503
Peckham Levels
95A Rye Lane
London
SE15 4ST
Unless your items are broken or faulty, you will be liable for the return costs to us. If your product has arrived damaged please send us a photo via email to info@albertandmoo.com and we will advise you further.